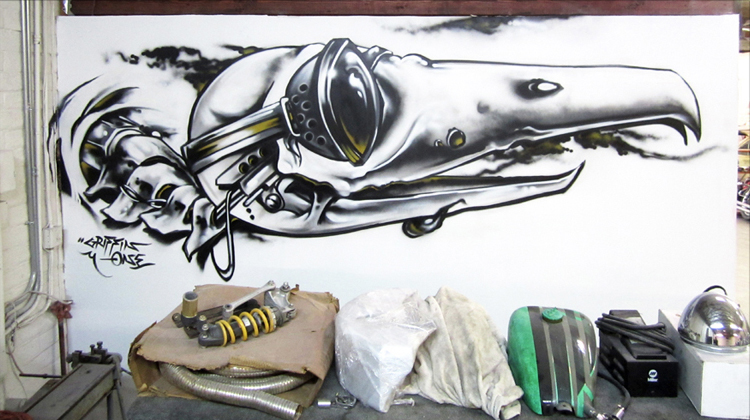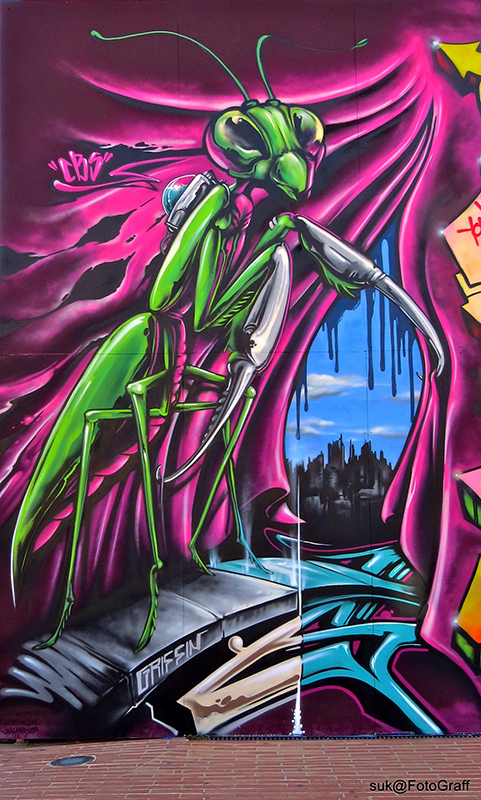 "The Owl"
This is one of 2 live aerosol painting on canvas, I painted over the 2 day event Hempcon 2017 / Heart of Nature! located at the Sticker farm booth along side Urban Aztec. (4x5 ft rolled canvas Sold)
Wallrus Up
Bay area Box Truck grafitti love!
Thanks Wendy
Yah Heard - Live Art
Live art Painting from this years Emissions Festival, Northern California Bass Music Festival! Lords / Camp Question Mark.
"Bata Sexy"
Mural for my friends New Restaurant in the Mission district of San Fransisco, called The Pink Onion Restaurant! This is a section I painted of a larger mural along side Ricky Watts! (Lunch, Dinner, Beer & Wine). (64 14th street SF) www.pinkonionpizza.com
"Something from Nothing"
In theme with the street life & recycle society out in West Oakland, CA. West Oakland Graffiti that has come and gone.
"Double Dragon Production"
Griffin's slice from a Double Dragon Production alongside Dycpher, Self, Drast & Codak, - Melrose Alley, Hollywood, CA graffiti.
Treasure Island Muisc Festival 2018
Griffin's Live Art - Pirate themed pieces for the event on Saturday the 13th Oct. 2018. Bay Area Pirate's
"It all Began in Africa"
Oakland Box Truck Love!
(More Painted Vehicles Found in "Design/Vehicles" section!)
Iguana charcter /production
Painted in El Centro, CA Located right near the US & Mexico Boarder.
"Stepp'in outside of your shel!"
Back in Town- Bay Area Graffiti!
"T-Rex"
Free Space, mission graffiti murals - San Francisco, CA
Outside Lands Festival 2018/ Mural
Mural Painted for this years OSL Music Festival in Golden Gate Park, South Tunnel Entrance. Thanks to Juxtapoz Magazine, ANother Planet & Wild Evidence for the oppertunity!
Outside Lands / Detail shot
Griffin "the itch" Bug painted Mural Entrance for Outside Lands this year 2018!
"Outside Lands Festival 2017"
3 Quarter shot of this wall!
Tunnel Aersol Art for this years 10th Anniversary Outside lands Event 2017! South Side Tunnel
"Ear Peace Records"
Back Patio piece for there shop in Berkeley, CA. 2012
"feelin lucky?"
Genie in a bottle, painted this year out in Vegas!
Walrus Snail "Outside Lands" Festival
My section of a collab aerosol mural, painted Sunday during Outside lands Festival 2017! To see artist Gus Cutty & my full piece- visit the "Live Art Section"!
"Texas Toad"
Painted live at the Acyalone show at Saharah Lounge, in Austin Texas for SXSW!
"Drifter Toad"
Spotted somewhere in the East Bay last!
"Masked Bandit""
Back Yard Oakland Racoon graffiti piece by Griffin - Photo by Eric Lampe
illectric River live art Mural, Waco Texas 2017
Close up of my Gator section, in theme with our collab production! Painted live, over the course of 6 hours, during the illectric River event! Featuring; Static, Mez Data, Clown, Jaber & Griffin.
"Many Hats"
East Bay Bucket Head character....
"Chillin"
Psychoactive frog found at the Compound Tempe, AZ. 2015
"Behind the Curtains"
Curious Gnome - Live Aerosol Art Mural Production, Symbiosis Festival 2012!
 
"Cyborg" (2015)
San Francisco, California graffiti
"Ganesh" - Symbiosis
Griffin's section for the Symbiosis Gathering 2015, as a part of the Lords' Production! Created alongside fellow artists: Pastime, Sworne, Noka & Jinks. Big Thanks to Sparkel! Panel approx. 30w x 8h ft.
"Hawaiian Style"
Hawaiian themed graffiti Geko steez! 2016
"Don't feed the Dragon!"
Outside Lands Tunnel Art- for this years 10th Anniversary Outside lands Event 2017! ( South Side Tunnel )
Griffin chrome Lettering steez
Bizar Fest 2019, Some Lettering, alongside friends! Griffin Graffiti
"Dream" (Estria Battle, 2013)
The theme for 2013 was "Dream." Honored to have been selected to be 1 of 15 participants, for the Estria Battle! The Estria Battle is a national aerosol graffitti art competition that honors and advances creativity in the hip-hop arts. Presented by Estria Foundation
Flowing Fluid Quil
Just going a little Abstract! A Production done out in Excelsior, SF 2014! This was one section to a larger production all of which was buffed weeks after due to new building owners! (Artist Joker piece above.)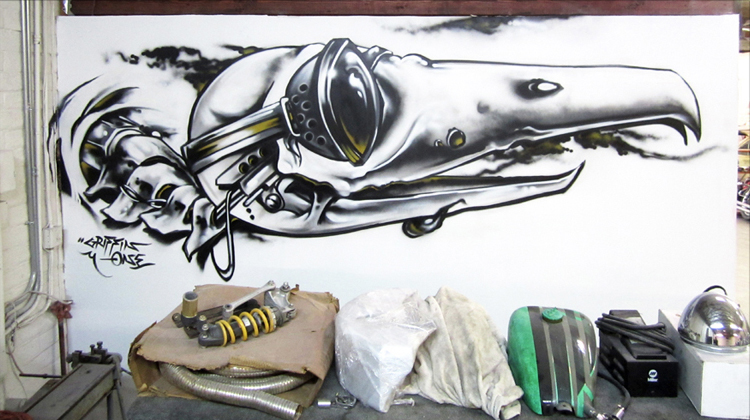 "Bird Skull" (2011)
Created in 2011 in Phoenix, AZ for a local business.
"The Lurker" (2014)
Character painted in 2014 for the Not Famous Print Shop in Redwood City, California. (4' x 8')
"Special Delivery Show"
"Its in our Blood"
SPECIAL DELIVERY is a large scale mural exhibition featuring a number of prolific graffiti artist & street artists from the Oakland / San Francisco, Bay Area 3 story Warehouse, Put on by Endless canvas. Foreground wall & Candle pillar painted by Griffin.
"Nor Cal SourDees"
Piece painted for a clients Man Cave.
"Hungry Wizard" (2013)
Located inside The Beach Hut Deli, Reno, NV (2013)
"Hollywood Monster"
Melrose Alleys, Hollywood / GFA International Graffiti Production, out in Los Angeles CA. 2013
"Swamp Thang"
This was a Colab production: Dytch66 with the wild style piece, Background by Griffin & to the right f this is a whitch by Doty.
Ghost Town, Oakland 2013!
"Mandelia Monsters"
Some detail & scale pics from 2 of my sections of this Monster Wall colab production from 2013 - Photo by Bryan Boutwell - featuring young Sha! ( Full Wall Picture & Details in Mural Section. )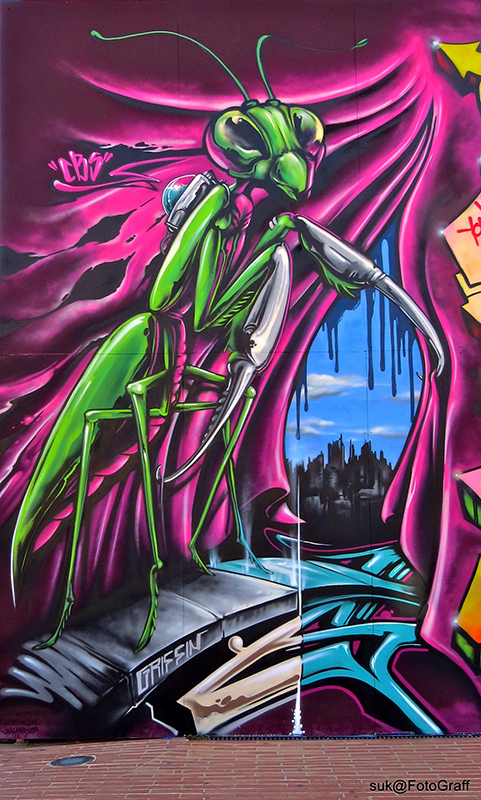 "Different Worlds"
Pray Mantis Style- Painted at the Meeting of Styles Perpignan, France 2015! Photo by: Suk@FotoGraff
"Nosfetatu"
A East bay Graffiti - Halloween production.
"The Last Caravan of Eden" SF
Griffin's "Bird with a Shell " creature was painted with aerosol in 2012 in San Francisco's Lower Haight neighborhood. The other artists in this production are Eon 75 & Ernest Doty!
"Black Book"
Griffin's section to the Large Oakland Graffiti production, put on by ELefunk, in theme with the NYC Fun Gallery show at LOakal, in Jack London Square, Oakland CA. With special guest Pati Astor Guest Appearance & Legionary Ex- Vandals crew form NY. painting the large side wall. 2013
"Letter Styles"
Some random lettering style - AZ - OAK